Today, it's my turn on Return To Hiroshima Book Blog Tour. Blackthorn Book Tours, thanks for giving me the opportunity to participate in Bob Van Laerhoven's tour.
Title: Return to Hiroshima
Author: Bob Van Laerhoven
Genre: International Mystery, Crime Thriller, Noir Fiction
Publisher: Crime Wave Press (March 26, 2018)


1995, Japan struggles with a severe economic crisis. Fate brings a number of people together in Hiroshima in a confrontation with dramatic consequences. Xavier Douterloigne, the son of a Belgian diplomat, returns to the city, where he spent his youth, to come to terms with the death of his sister. Inspector Takeda finds a deformed baby lying dead at the foot of the Peace Monument, a reminder of Hiroshima's war history. A Yakuza-lord, rumored to be the incarnation of the Japanese demon Rokurobei, mercilessly defends his criminal empire against his daughter Mitsuko, whom he considers insane. And the punk author Reizo, obsessed by the ultra-nationalistic ideals of his literary idol Mishima, recoils at nothing to write the novel that will "overturn Japan's foundations"…Hiroshima's indelible war-past simmers in the background of this ultra-noir novel. Clandestine experiments conducted by Japanese Secret Service Unit 731 during WWII become unveiled and leave a sinister stain on the reputation of the imperial family and the Japanese society as a whole.
Return to Hiroshima, by Bob Van Laerhoven, is a novel that falls between many genres, Noir, Crime Thriller, Mystery, Literary, and Historical fiction. This multi-genre story unfolds in many layers, shedding a country's horrific past. Mr. Laerhoven's novel is replete with sinister characters, lost, damaged souls consumed with wicked, corrupt acts―greed, incest, lust, and a murderous psychopath of imperial blood, believed the incarnate of Rokurobei, a Japanese demon, and a master of lies. Lies so convincing, I question the truth throughout the story, a version that contradicts his daughter's, Mitsuko, who's escaped his control into the city. And the reason Rokurobei has resurfaced after many years―to find and silence his daughter's untruths.
Although the story takes place in 1995, Japan, the dark,  urban setting feels post-apocalyptic. Unscrupulous characters indulge personal demons in clandestine places while a psychopath who believes he is one scours the city on a murderous mission to uncover his daughter.
 World-War One's Little Boy, Military Intelligence Service Unit 713's ghastly experiments to create a master race, shadows and serves as a backdrop to modern-day Japan.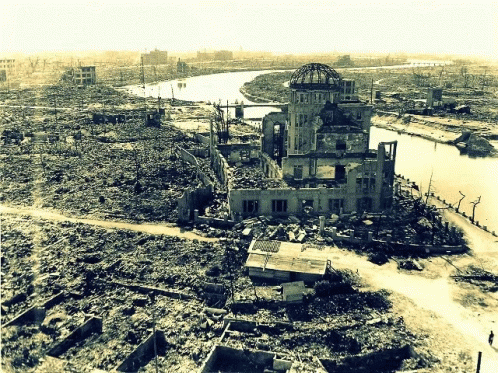 Sated with seedy nightlife, secret clubs (Suicide Club) living on the fringe of society, a corrupt government, amid a recessionary economy, and a suspicious bank robbery, the sinister plot thickens as Japan seems on the brink of collapse.
Undoubtedly, there are monsters in this story, not just grotesque abnormalities of war, and secret experiments gone awry, but regular people suffering personal demons. Mr. Laerhoven interweaves backstories effortlessly from 1945 to 1995, revealing how past misdeeds impact present-day character's lives.
The author isn't afraid to write mankind's baseness or grisly details that repelled but compelled me to turn the page, no matter how repugnant.  There is no light, no salvation in this Noir fiction. No happy endings, only darkness, death, Karmic retributions, black as toxic dust.  I approached the last page with a heavy sigh and laid my head on the sofa with several maxims blitzing my mind. Karma is a bitch. The past always haunts the present. Demons exist in human form. Evil knows no light.
But there is always hope as the Peace Monument, an effigy of a young girl named Sadako Sasaki who remained hopeful until illness from Little Boy's toxic dust claimed her life.
The Peace Monument stands today in Japan as a reminder of man's darkness, hope, and light.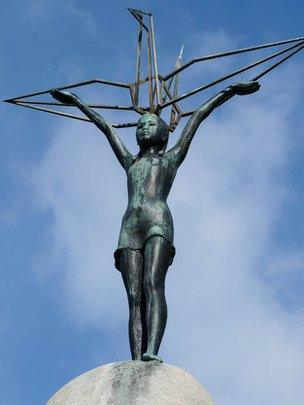 . . . the bullet-shaped memorial to Sadako Sasaki, the twelve-year-old little girl who was standing on Misasa Bridge when Little Boy exploded above her head and toxic radiation descended on the city like a blanket. She died ten years later from leukaemia. Sadako spent the last year of her life folding paper cranes because a clairvoyant had predicted she would survive if she reached a certain number. . . she had folded many more than the required number when she died with malignant bulges on her neck and throat . . . Nowadays, after every school trip, hoards of nervous, giggling schoolgirls leave behind a veritable mountain of finely folded paper at her monument.
Return To  Hiroshima, a well-written, page-turner, will stir you to the core, play on every emotion, make you deliberate man's evil, and hope for some light amidst darkness. I highly recommend Return to Hiroshima but caution those faint of heart.
Bob van Laerhoven was born on August 8th, 1953 in the sandy soil of Antwerp's Kempen, a region in Flanders (Belgium), bordering to The Netherlands, where according to the cliché 'pig-headed clodhoppers' live. This perhaps explains why he started to write stories at a, particularly young age. A number of his stories were published in English, French, German, Polish, Spanish, and Slovenian.
DEBUT
Van Laerhoven made his debut as a novelist in 1985 with "Nachtspel – Night Game." He quickly became known for his 'un-Flemish' style: he writes colorful, kaleidoscopic novels in which the fate of the individual is closely related to broad social transformations. His style slowly evolved in his later novels to embrace more personal themes while continuing to branch out into the world at large. International flair has become his trademark.
AVID TRAVELLER
Bob Van Laerhoven became a full-time author in 1991. The context of his stories isn't invented behind his desk, rather it is rooted in personal experience. As a freelance travel writer, for example, he explored conflicts and trouble-spots across the globe from the early 1990s to 2004. Echoes of his experiences on the road also trickle through in his novels. Somalia, Liberia, Sudan, Gaza, Iran, Mozambique, Burundi, Lebanon, Iraq, Myanmar… to name but a few.
MASS MURDERS
During the Bosnian war, Van Laerhoven spent part of 1992 in the besieged city of Sarajevo. Three years later he was working for MSF – Doctors without frontiers – in the Bosnian city of Tuzla during the NATO bombings. At that moment the refugees arrived from the Muslim enclave of Srebrenica. Van Laerhoven was the first writer from the Low Countries to be given the chance to speak to the refugees. His conversations resulted in a travel book: "Srebrenica. Getuigen van massamoord – Srebrenica. Testimony to a Mass Murder." The book denounces the rape and torture of the Muslim population of this Bosnian-Serbian enclave and is based on first-hand testimonies. He also concludes that mass murders took place, an idea that was questioned at the time but later proven accurate.
MULTIFACETED OEUVRE
All these experiences contribute to Bob Van Laerhoven's rich and commendable oeuvre, an oeuvre that typifies him as the versatile author of novels, travel stories, theatre pieces, biographies, non-fiction, letters, columns, articles… He is also a prize-winning author: in 2007 he won the Hercule Poirot Prize for best crime novel of the year with "De Wraak van Baudelaire – Baudelaire's Revenge." "Baudelaire's Revenge" has been published in the USA, France, Canada, the Netherlands, Belgium, and Russia. In 2014, a second French translation of one of his titles has been published in France and Canada. "Le Mensonge d'Alejandro" is set in a fictitious South-American dictatorship in the eighties. The "junta" in this novel is a symbol for the murderous dictatorships in South-America (Chile and Argentine, to mention two)during the seventies and beginning of the eighties. In The Netherlands and Belgium, his novel "De schaduw van de Mol" (The Shadow Of The Mole) was published in November 2015. The novel is set in the Argonne-region of France in 1916. An English translation of the novel is in the works.
"Baudelaire's Revenge" is the winner of the USA BEST BOOK AWARDS 2014 in the category Fiction: mystery/suspense.
In April 2015 The Anaphora Literary Press published the collection of short stories "Dangerous Obsessions" in the US, Australia, UK, and Canada, in paperback, e-book, and hardcover. "Dangerous Obsessions" was voted "best short story collection of 2015 in The San Diego Book Review. In May 2017, Месть Бодлерa, the Russian edition of "Baudelaire's Revenge" was published. "Dangerous Obsessions" has been published in Italian, Portuguese, Swedish, and Spanish editions. In January 2018 followed "Heart Fever", a second collection of short stories, published by The Anaphora Literary Press. In April 2018, Crime Wave Press brought forth the world-wide English language publication of "Return to Hiroshima", Brian Doyle's translation of the novel "Terug naar Hiroshima".
Connect with Author at:
 https://twitter.com/bobvanlaerhoven
https://www.facebook.com/bob.vanlaerhoven
Amazon.com