October and November are my favorite months. I was born on  All Souls Day or Day of The Dead, November 2nd,  a day traditionally extended for Halloween celebrations in many countries, which probably explains my affinity for horror literature (gothic, paranormal). I've gobbled up countless novels and movies in this genre. Some of my favorites are The Raven (Edgar Allan Poe), Frankenstein (Mary Shelley), Dracula (Bram Stroker), The Turn of the Screw (Henry James), The Dunwich Horror (H. P. Lovecraft), The Legend of Sleepy Hollow (Washington Irving),  Dr. Jekyll and Mr. Hyde (Robert Louis Stevenson), The Phantom of the Opera (Gaston Leroux), Beloved (Toni Morrison), Interview With A Vampire (Anne Rice) and the list goes on, not to mention I've read almost everything by Stephen King except his most recent. 
I've added a few new ones to my October Reading list. Revenge (Yoko Ogawa), Ink and Bone (Lisa Unger), A Boy's Life (Robert R. McCammon), Wakenhyrst (Michelle Paver), At The Mountains of Madness (H. P. Lovecraft), Little Heaven (Nick Cutter), Carmilla (Joseph Thomas Sheridan Le Fanu). Six books in a month is a stretch, but if not completed in October, I will add them to my November TBR list.
Sinister forces collide—and unite a host of desperate characters—in this eerie cycle of interwoven tales from Yoko Ogawa, the critically acclaimed author of The Housekeeper and the Professor.
An aspiring writer moves into a new apartment and discovers that her landlady has murdered her husband. Elsewhere, an accomplished surgeon is approached by a cabaret singer, whose beautiful appearance belies the grotesque condition of her heart. And while the surgeon's jealous lover vows to kill him, a violent envy also stirs in the soul of a lonely craftsman. Desire meets with impulse and erupts, attracting the attention of the surgeon's neighbor—who is drawn to a decaying residence that is now home to instruments of human torture. Murderers and mourners, mothers and children, lovers and innocent bystanders—their fates converge in an ominous and darkly beautiful web.
Twenty-year-old Finley Montgomery is rarely alone. Visited by people whom others can't see and haunted by prophetic dreams she has never been able to control or understand, Finley is terrified by the things that happen to her. When Finley's abilities start to become too strong for her to handle–and even the roar of her motorcycle or another dazzling tattoo can't drown out the voices–she turns to the only person she knows who can help her: her grandmother Eloise Montgomery, a renowned psychic living in The Hollows, New York.
Merri Gleason is a woman at the end of her tether after a ten-month-long search for her missing daughter, Abbey. With almost every hope exhausted, she resorts to hiring Jones Cooper, a detective who sometimes works with psychic Eloise Montgomery. Merri's not a believer, but she's just desperate enough to go down that road, praying that she's not too late. Time, she knows, is running out.
As a harsh white winter moves into The Hollows, Finley and Eloise are drawn into the investigation, which proves to have much more at stake than even the fate of a missing girl. As Finley digs deeper into the town and its endless layers, she is forced to examine the past, even as she tries to look into the future. Only one thing is clear: The Hollows gets what it wants, no matter what.
It's 1964 in idyllic Zephyr, Alabama. People either work for the paper mill up the Tecumseh River, or for the local dairy. It's a simple life, but it stirs the impressionable imagination of twelve-year-old aspiring writer Cory Mackenson. He's certain he's sensed spirits whispering in the churchyard. He's heard of the weird bootleggers who lurk in the dark outside of town. He's seen a flood leave Main Street crawling with snakes. Cory thrills to all of it as only a young boy can.
 
Then one morning, while accompanying his father on his milk route, he sees a car careen off the road and slowly sink into fathomless Saxon's Lake. His father dives into the icy water to rescue the driver, and finds a beaten corpse, naked and handcuffed to the steering wheel—a copper wire tightened around the stranger's neck. In time, the townsfolk seem to forget all about the unsolved murder. But Cory and his father can't.
 
Their search for the truth is a journey into a world where innocence and evil collide. What lies before them is the stuff of fear and awe, magic and madness, fantasy and reality. As Cory wades into the deep end of Zephyr and all its mysteries, he'll discover that while the pleasures of childish things fade away, growing up can be a strange and beautiful ride.
"Something has been let loose…"
In Edwardian Suffolk, a manor house stands alone in a lost corner of the Fens: a glinting wilderness of water whose whispering reeds guard ancient secrets. Maud is a lonely child growing up without a mother, ruled by her repressive father.
When he finds a painted medieval devil in a graveyard, unhallowed forces are awakened.
Maud's battle has begun. She must survive a world haunted by witchcraft, the age-old legends of her beloved fen – and the even more nightmarish demons of her father's past.
Spanning five centuries, Wakenhyrst is a darkly gothic thriller about murderous obsession and one girl's longing to fly free by the bestselling author of Dark Matter and Thin Air. Wakenhyrst is an outstanding new piece of story-telling, a tale of mystery and imagination laced with terror. It is a masterwork in the modern gothic tradition that ranges from Mary Shelley and Bram Stoker to Neil Gaiman and Sarah Perry.
Long acknowledged as a master of nightmarish visions, H. P. Lovecraft established the genuineness and dignity of his own pioneering fiction in 1931 with his quintessential work of supernatural horror, At the Mountains of Madness. The deliberately told and increasingly chilling recollection of an Antarctic expedition's uncanny discoveries–and their encounter with untold menace in the ruins of a lost civilization–is a milestone of macabre literature.
A trio of mismatched mercenaries—Micah Shughrue, Minerva Atwater, and Ebenzer Elkins, colloquially known as "the Englishman"—is hired by young Ellen Bellhaven for a deceptively simple task: check in on her nephew, who may have been taken against his will to a remote New Mexico backwoods settlement called Little Heaven, where a clandestine religious cult holds sway. But shortly after they arrive, things begin to turn ominous. There are stirrings in the woods and over the treetops—and above all else, the brooding shape of a monolith known as the Black Rock casts its terrible pall. Paranoia and distrust soon grip the settlement. Escape routes are gradually cut off as events spiral toward madness. Hell—or the closest thing to it—invades Little Heaven. All present here are now forced to take a stand and fight back, but whatever has cast its dark eye on Little Heaven is marshaling its power—and it wants them all…
This Gothic novella tells the story of a young woman's susceptibility to the attentions of a female vampire named Carmilla. Carmilla predates Bram Stoker's Dracula by 25 years and has been adapted many times for cinema. Although Carmilla is a lesser-known and far shorter Gothic vampire story than the generally-considered masterwork of that genre, Dracula, the latter is heavily influenced by Le Fanu's short story.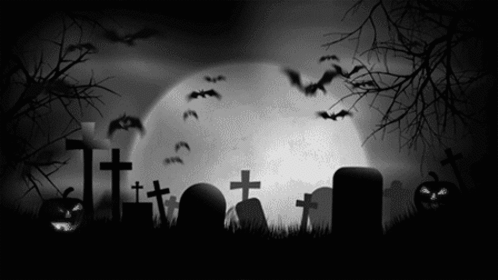 HAPPY HALLOWEEN READING AND WRITING!